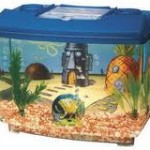 Are you an avid aquarium hobbyist with young children that show curiosity but your set up is not suitable to let them become too involved? The answer could be to give them their own little tank with decor that will interest them and keep them amused. There are a number of themed tanks on the market suitable from the tiny tot to the 'cool' teenager.
Freshwater and Tropical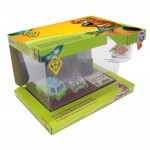 For the little ones how about the Spongebob Squarepants tank featuring the popular cartoon character from Nickolodeon television? It's a good choice as Spongebob and his pals live at the bottom of the ocean so bringing him into your home in his own tank is not such a bizarre concept. The kit, by Penn Plax, features a 20 litre plastic aquarium and measures 37 cm x 23 cm x 24 cm. The hood adds another 5 cm and includes a clear flap for feeding and ventilation. It includes an air pump, filter, plastic plants, gravel, background scenery and a Spongebob ornament, with additional Spongebob-themed goodies available separately. Or maybe the Scooby Doo Aquarium Kit also by Penn Plax, smaller at 15 litres but featuring a 3 x magnified feeding zone allowing your kids to watch close up when the fish are feeding.
There are other themed starter kits for small children available or, of course, you can make tank decorations to your own design using a selection of accessories to be found at most good aquarium stores. Just be sure to give your child the opportunity to choose his or her own styles and ideas! It may be best for children new to keeping an aquarium to have coldwater fish, although most kit tanks are also suitable for tropical fish and if you are willing to make the extra effort with your kids tropical tanks can seem so much more exciting!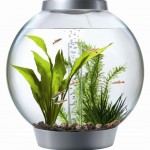 For older children and teens consider the Baby BiOrb with Light, a 15 litre coldwater aquarium kit. With the original BiOrb globe design, these thanks are stylish and attractive. They come complete with LED light, air pump, plug top 12v transformer, underwater gravel filter, filter cartridge, bubble tube, airstone, tap water treatment and a sample pack of fish food. To convert to a tropical tank all it needs is a heater.
Marine Tanks
Freshwater aquariums are considered easier to manage than marine aquariums; saltwater is more complicated but if mom and dad already have a marine set up there is no reason why junior shouldn't have one too!
It's better to have a larger saltwater aquarium than a small one (upwards of 20 gallons is recommended) as when something goes amiss a small tank can get to a critical condition really fast. A larger tank can be suitable for a good number of fish and invertebrates as well as leaving room for the odd mishap.
There is a choice with saltwater tanks on what type of marine life you wish to keep. Again, take your offspring to a store where they can see each sort of set up and let them decide what they like best, whether that is a Fish Only tank (FO), Fish Only With Live Rock (FOWLR) or a full Reef Tank. FO and FOWLR tend to be less complicated but once some experience has been gained (or dad already has the t-shirt, so to speak) there is no reason why your youngsters can't progress to a reef set up. Unlike freshwater and tropical, marine fish and invertebrates favor a natural setting so investing in some live rock a good idea.

Again there is a variety of kits readily available making the youngster's first marine tank quick and easy to start. The Current Cardiff Aquarium System is a 28 gallon frameless glass aquarium with a distinctive bullet shape which makes viewing possible from any angle. The filtration system is hidden from view and uses mechanical, chemical, and biological filtration as well as a venturi protein skimmer for 4-stage filtration. There is a choice of two lighting systems, both of which are designed to reduce the heat load without the use of a noisy fan, and both are located with its own adjustable arm for the effect best suited for you and your fish. The Nano Cube 28 gallon HQI aquarium kit presents a new genre of nano reef systems designed to ensure hard corals, small polyp stony (SPS) corals, and clams meet their specific healthy marine conditions. The more sophisticated features include a 150 watt 14000°K HQI metal halide lighting system, 3-stage filtration, counter-current protein skimmer, nocturnal LED lighting, alternating wavemaker, a 532 gph flow rate, 4 built-in cooling fans as well as other benefits. This aquarium is made of glass with rounded corners providing an excellent panoramic viewing quality.

Your children will love their very own little place of underwater life and while they let their imaginations run riot exploring and making up new fishy adventures, they will also be learning about keeping fish in the best fun-filled way.