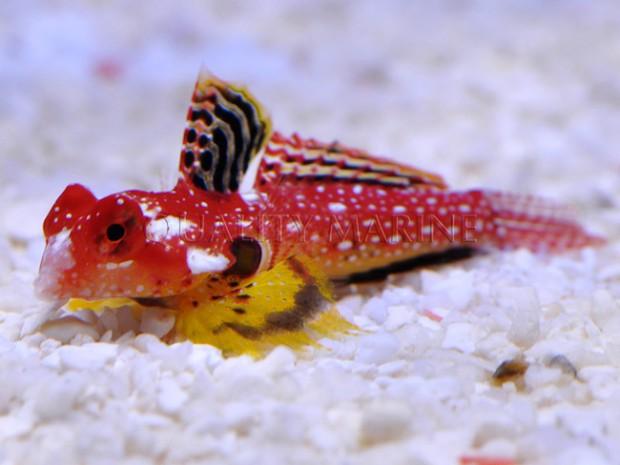 [google_adsense_in_post]
A dazzling ruby red dragonet of the genus Synchiropus has made a big splatter in aquariums around the world. It started to show off in South Africa, and then on to Singapore, Japan and Los Angeles, the brilliant red dragonet has been spotted in shipments of red scooter blennies from a unique collection location in the Philippines.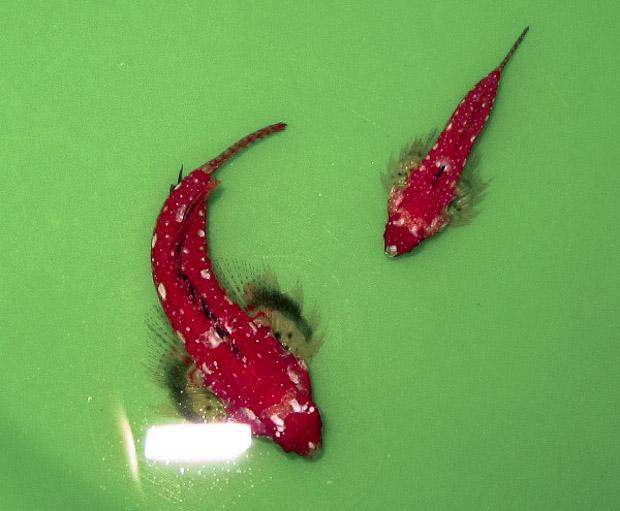 The guesses as to which species of Synchiropus the Ruby Red dragonet belongs to have ranged from Synchiropus moyeri, to Synchiropus morrissoni to the recently described Synchiropus tudorjonesi. Morrisson and Moyer's dragonets have been ruled out on a variety of meristic values and although the ruby red dragonet look a helluva lot like S. tudorjonesi, it is considerably dissimilar from the latter to be a different species, perhaps unexplained and anonymous to science. Some pictures of the also unknown Synchiropus rubrovinctus were also examined but that species is also quite characteristic, and not like the Ruby Red Dragonet currently under inspection.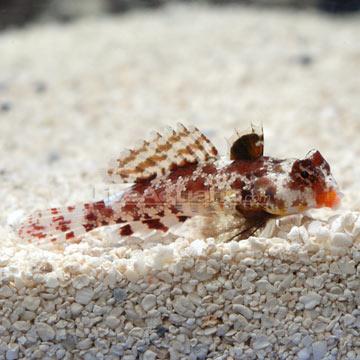 Then there is Red Scooter Dragonet or Synchiropus stellatus. This looks somewhat similar in features and shape but not in color. The Red Scooter Dragonet is also referred to as the Starry Dragonet or Stellate Dragonet. Its body is a mottling of red and white with large dark spots. The male usually has brighter colors and a larger dorsal fin.
So although we do not know what the Ruby Red Dragonet is, we do know that is amazingly stunning. The radiant ruby colored body is scattered by few small diverse white spots, vivid yellow pelvic fins that are highly contrasted by a dark black spot on the gill cover. As an additional benefit it appears that male Ruby Red Dragonets also have some noticeable dark diagonal striping in the dorsal fin as well as metallic blue spots on the face under the eyes. So this makes it somewhat close to the Red Scooter dragonet but not completely its sister species.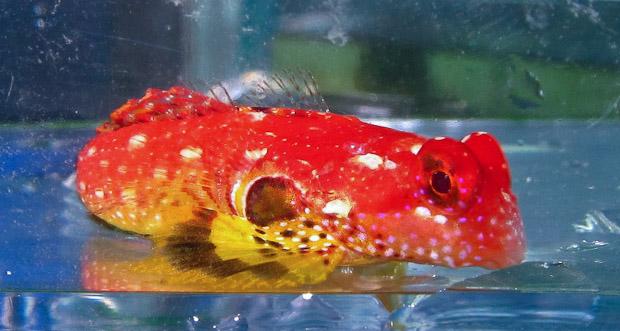 This present batch of the Ruby Red Dragonet seems to have originated from a predominantly deep location in the Phillipines but a much related specimen was pulled up by John Hansen and Rufus Kimura on a recent voyage in the South Pacific. Although the new super red Synchiropus fish looks quite similar to the Synchiropus tudornjonesi, that species seems to maintain a dark going on black flank well into adulthood, and a slightly different pattern of white spots.
So, very little is yet known about the Ruby Red Synchiropus, but we know that there's more than a splash of them being brought up from the Philippines. With a bit of luck the precise collecting site of the new dragonet is eagerly reachable so that more specimens can make it to aquariums, from which point we could see aquarium pairings lead to captive breeding.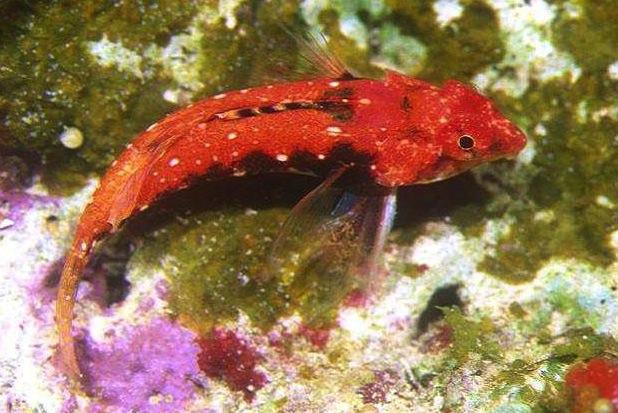 This investigative story was made possible by the contributions from many different aquarists around the world and we would like to thank Yuri Vendevetter, Junkai Ong, John Hansen and Quality Marine for their help in collecting a picture of this thrilling new aquarium fish.