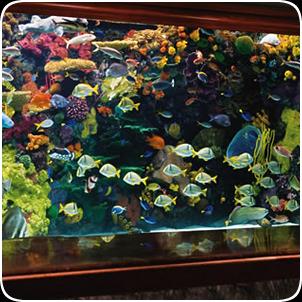 [google_adsense_in_post]
The mirage in Las Vegas is a famous spot for splurging and for having the most amazing holiday experience you can think of. Its casinos, volcanoes and gardens leave no doubt that the place has a lot of offer you at any time of the day. A very special feature of Mirage which you cannot leave unnoticed is its incredible 20,000-gallon saltwater tank. Whoever is the man behind the idea of this amazing tank must be a real reef freak.
If you ever get to be checking in, check out the 20,000-gallon saltwater tank behind the front desk. The indoor coral reef is abode to around 450 fish from 85 different species of finned and gilled glory. These fish species were all selected for their flexibility to the environment and compatibility with other species.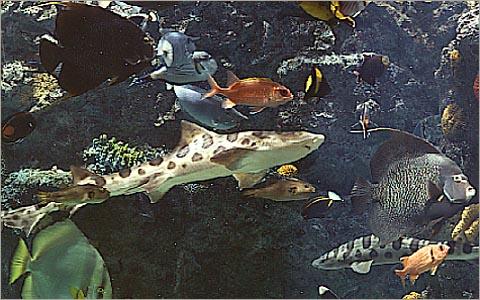 It is regarded as one of the most popular attractions of this hotel and one look at it can assure you it really is the most incredible saltwater tank you must have come across. This 20,000-gallon saltwater aquarium is home to angelfish, puffer fish, tangs and other exotic sea creatures.
It took two-month transformation, and now The Mirage's famed lobby aquarium – already one of the most elaborate and technically advanced in the world – offers visitors a new sensory escape.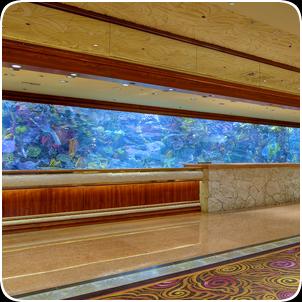 Several of the top aquarium design experts collaborated to create the ultimate undersea environment. The interior was carefully created to simulate an intricately detailed, coral reef. To preserve the living reefs in the ocean, no live coral is used in the tank. The aquarium's filtration and life support systems were also updated with technology that will improve visibility and support new artificial corals and nearly 1000 specimens.
This 20,000 gallon spectacular is abode to new, brighter artificial corals that call to mind the exotic beauty of such tropical locales as Australia's Great Barrier Reef. In order to protect the environment it celebrates, The Mirage donated the exhibit's old reef system to the Las Vegas Natural History Museum. The Mirage Lobby Aquarium is located directly behind the front desk.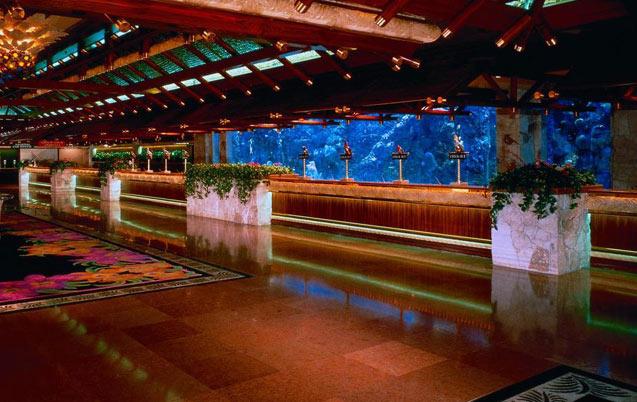 Managed by The Mirage's own in-house aquarists, the aquarium is cleaned 2-3 times a week as the aquarium staff suits up and dives into the tank. Divers can be seen early in the morning as they scrub the corals, wipe the acrylic window, and siphon the gravel. This maintenance helps keep the water healthy for the animals and maintains an aesthetically pleasing view.
In December of 2011, Sherman's travel ranked The Mirage Aquarium 7th in the world for best hotel aquarium. The aquarium is 53 feet long, eight feet from top to bottom, and six feet from front to back. The acrylic used in the aquarium is 4 inches thick.