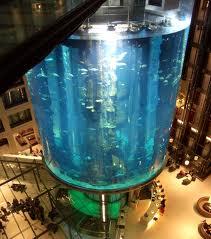 [google_adsense_in_post]
The Radisson Blu Hotel in Berlin, Germany, may look like just another luxury hotel, however, once you enter it, you will be blown away by the enormous 82 feet high aquarium in the heart of the hotel's lobby atrium. The AquaDom is the world's largest cylindrical aquarium with one million litres of saltwater and is a stunning habitat for many species of tropical fish. There are various employees working daily inside the cylinder maintaining it and feeding the tropical sea fish. The fish need 8kg of fish food. There is enough work for the divers who work daily in the AquaDom, inch by inch is being cleaned while visitors pass by in the elevator. There even is an elevator inside the aquarium. The DomAquaree Complex also contains a hotel, offices, a restaurant, and the aquarium Sea Life Centre.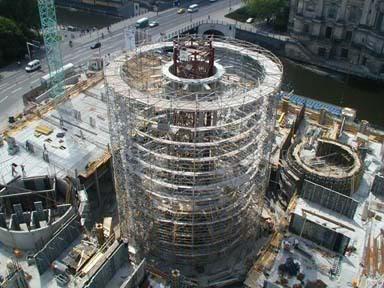 It stands 25m tall and is filled with roughly 900,000 litres of sea water which is home to 2600 fish of 56 different species, artificial colorful corals and rock formations. It has a diameter of over 11m built on a 9m tall concrete foundation. It cost around 12.8 million euros to build. The overall construction of the aquarium was designed and built by International Concept Management, Inc. The aquarium is built with synthetic glass and designed by the architect Sergei Tchoban. The acrylic cylinder was constructed by the U. S. company Reynolds Polymer Technology. The outside cylinder was manufactured onsite from four pieces, the inside cylinder for the elevator was delivered in one piece. The result is an amazing design and concept although one can argue about the huge amount of sea water that is being used in this aquarium and the ecological effects, but it is spectacular.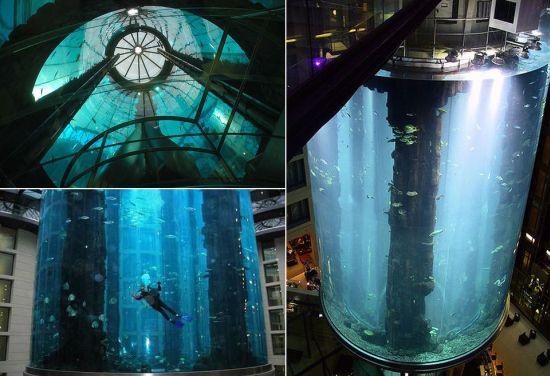 It is not necessary to be a deep sea diver to enjoy the views at the bottom. A visitor can simply take the glass elevator ride through the middle of the aquarium from the bottom to the top to reach the sightseeing point and panoramic restaurant under the glass roof.