You might have tried several ornaments to enhance the visual appeal of your fish tank. But at same time you have to be cautious that, the ornaments you are using, should neither affect the water chemistry not its inhabitants. And, you keep on trying and testing the best ornaments fitted for your aquarium, that is not just safe for your fish but add to the décor as well.
Apart from substrates, which are necessity and rocks, an under-sea look gets complete with plants. But, live plants need regular check-up and replacement and an extra care apart from the fish. So, you can opt for the realistic plastic plants made of non-toxic material, safe for your fish and which would add to the colour and vivacity to your aquarium.
Jardin has brought vividly float plants décor ornament in two bright colours—orange-yellow and purple-blue, which would not just add to the beauty of your fish tank but is absolutely safe for its inhabitants. Besides, adding the perfect colour to the underwater environ of your tank, they provide ample place for fish to swim through and rest.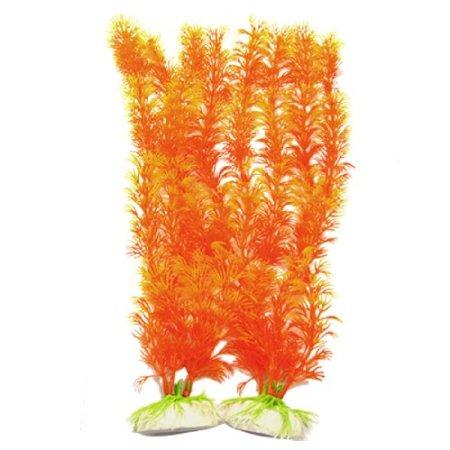 The price of orange ornament starts from $7.66 and that of the purple one is $4.75. The purple ornament is available because of the new Add-on program on amazon. You can have this product with other products of higher price range as the cost of this item is too low to ship alone. Shipping, however is free on amazon on orders over $25.
This aquarium décor is durable in salt and fresh water and safe for fish as these are non-toxic. They won't die or rot or cause algae problems. These long lasting and realistic-looking plants are fade-resistant.
These are made of plastic with ceramic base. So they will stay where they are placed in the tank, thus creating a beautiful undersea world and sparking your imagination.
The new style plastic aquarium plants are incredibly easy to use as well. Simply drop them inside the tank into the water and its firm ceramic base holds the gravel firmly keeping the plant in place. They also give fish ample places to hide and swim.
Each package contains two same colour plants, the orange measuring 13 inches long and weighing 86g and the purple and blue weighing 71.6g and measuring 12 x 2 x 1.2 inches.
The customer response is very good as suggested by the rating– 4.4 stars out of 5. Customers are especially happy with the vivid colours, which look great and pretty, managing to create an enthralling aquatic environment.
Another point of customer satisfaction is that to set these up is easy and within minutes, a beautiful aquarium is created with these vivid aquarium décor. The floating plant helps the aquarium become a living place of art.
Also, they are tall and the bright and vibrant plants look great behind Spongebob's Pineapple House.