Would you love to keep Jellyfish in your home or office and awe every visitor? Well amazon has made it possible. Now you can get a readymade Deluxe Jellyfish Aquarium from Fascinations on amazon. Just visit and place your order.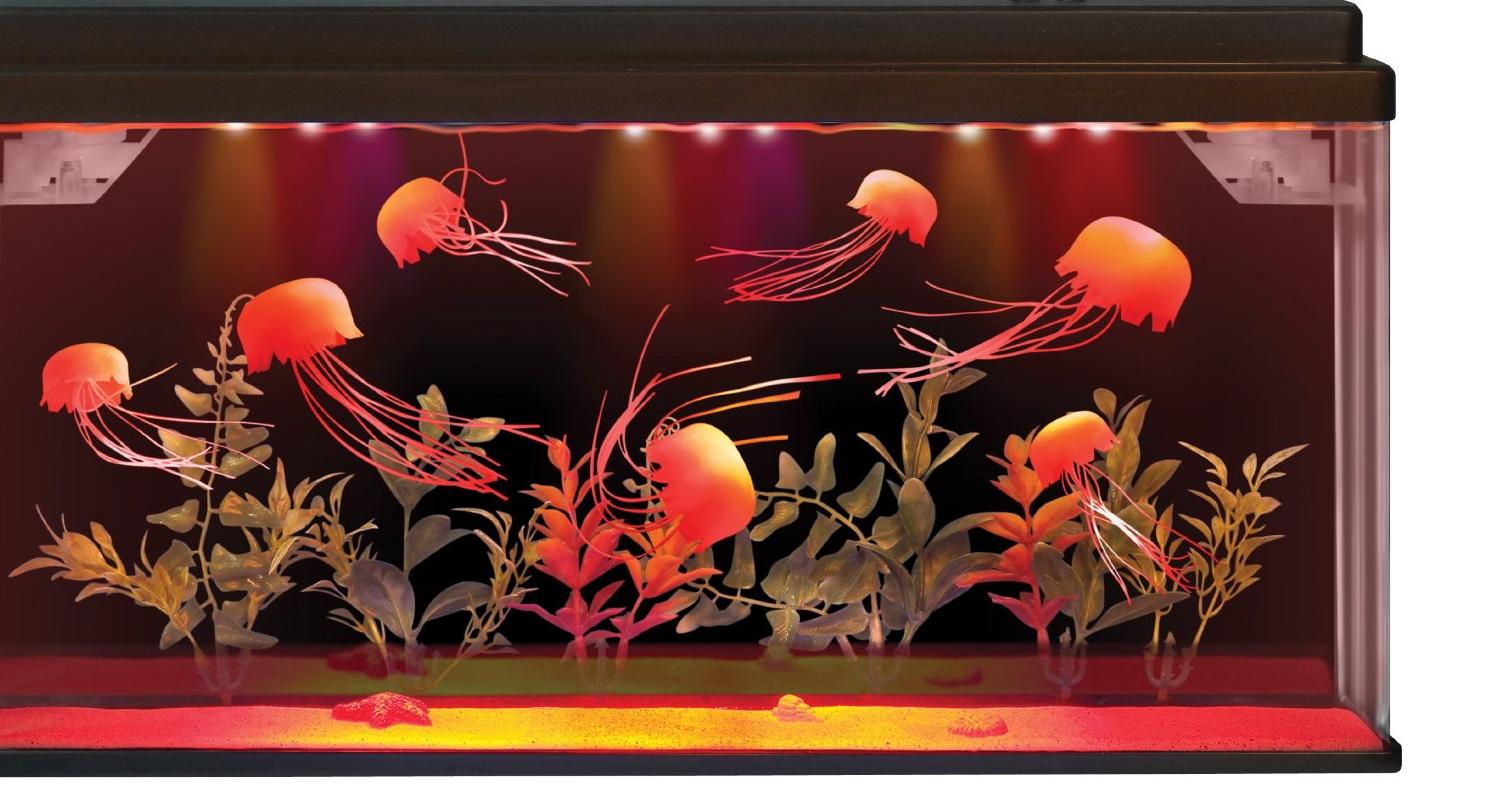 The beautiful centrepiece brings a soothing ambience to any home or office. This bright and beautiful aquarium looks extremely real, despite the plastic Jellyfish. You won't even know the jellyfish were fake, until told. It has incredible LED lights, which makes the ambience of your room, where you kept it all the more vivid. You can just keep on staring the jellyfish swimming, for hours enjoy the deep-sea life at your drawing room or meeting hall, wherever, you prefer to keep it.
There are 12 new models starting from $49.99. Each includes seven jellyfish and 12 color changing LED lights. Moreover, it has 5 color lighting effects to break the monotony. So, every time, you would see a different colour.
It has auto-off function after 4 hours during which the jellyfish fall asleep. Even then it looks good, when the jellyfish are not moving. It has to be kept in mind, however, these jellyfish are not real but artificial made up of plastic. Hence, those who love fish and aquarium but do not want the hassle of cleaning and maintenance, this is perfect. Since the jellyfish are not live but plastic, no maintenance is required. So, with very minimal maintenance, you can enjoy the beautiful jellyfish, lyrically swimming in the gentle currents of a salt water aquarium with capacity of around 2 gallons.
The size of the aquarium is 18×3.3×9.5 inches. It is a thin rectangular prism made of plastic, attached to a strong, but small, black plastic base. Though the aquarium is thin, it has surprising balance. The back of the base extends out 1″, and has a line of holes along this extra strip. The set up is very easy– fill with water, add soap, slosh around to clean, empty, put plant stems in holes on back of the base, fill with distilled water, slowly put the jellyfish with head first (it takes time), so that they sink to the bottom, add soap, stir with knife, put on top, plug in and its ready.
However, you have to be cautious while putting the jellies, as per the instructions and distilled water is must. Do not use tap water. Otherwise, they won't float properly. Also, keep in mind, you have to change the water frequently.
Customers, especially those who have less time and means to look after live fish in aquarium but want to enjoy the beauty, love it. You can also gift it to such persons. One of the customers says, "I got it for my dad, and he really enjoys it. The aquarium came in its own box (like if you bought it at a store) and was very well packaged."