The Giant Ocean Tank at New England Aquarium has undergone a complete makeover and is ready to thrill the visitors with a modern look. The Aquarium has just completed a renovation that has renewed its main building to the core, and the iconic Giant Ocean Tank has undergone a top-to-bottom, 21st-century transformation. Today the new exhibit has more than 2,000 animals, a revitalized coral reef and new exhibit spaces at the top. Now the Aquarium adventure includes sea turtles, sharks, stingrays, bustling penguin colonies, playful seals and a series of kid-friendly touch tanks.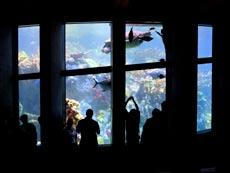 At its deepest point, the Giant Ocean Tank goes down 26 feet; it is 40 feet wide and holds 200,000 gallons of salt water. The water is heated to between 72° and 75° F, which is a perfect temperature range for this tropical exhibit. This exhibit is so big that it was built first, and then the rest of the Aquarium was built around it.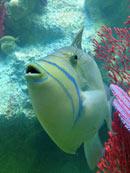 The unchallenged star of the exhibit is Myrtle the green sea turtle. Myrtle has lived at the Aquarium since June of 1970 —some of the adult visitors remember seeing her when they first came to the Aquarium as children. Myrtle shares the Giant Ocean Tank with more than 2,000 animals. Among the additions to the exhibit after the renovation are an agile new species of shark, the blacknose sharks. There are also dozens more new fish species, including scrawled filefish, midnight parrotfish, trumpetfish, guitarfish and yellow goatfish as well as favorites that were in the exhibit before, such as Kemp's ridley and loggerhead sea turtles, barracuda, stingrays, moray eels and hundreds of colorful reef fishes.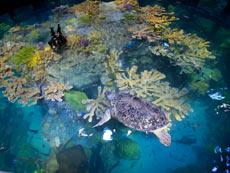 The Giant Ocean Tank is a Caribbean coral reef exhibit. The coral was handmade and painted by Aquarium artists. The habitat inside has more than 3,000 carefully sculpted coral elements, and it is so accurate that it can be hard to tell it isn't real. Coral reefs are found throughout the world's tropical and subtropical oceans. Tropical Atlantic coral reefs, such as the one represented in the Giant Ocean Tank, extend as far north as the Bahamas. Aquarium divers and researchers go on regular expeditions to these habitats.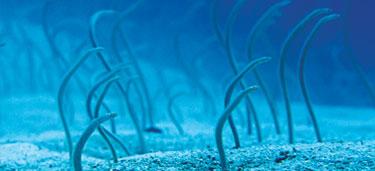 This new exhibit area at the top of the Giant Ocean Tank gives visitors a closer look at a hidden world filled with unique coral reef animals. See gently swaying garden eels, grinning moray eels and batfish.
Recently, National Geographic underwater photographer and New England Aquarium Explorer-in-Residence Brian Skerry dove in for a closer look at Aquarium's new Giant Ocean Tank, with camera in hand. The Uxbridge, Mass., resident has circled the globe as an award-winning underwater photographer and author for National Geographic. He's chronicled the lives of harp seals, Southern right whales, sharks, blue fin tuna and scores of other marine life in their natural habitats, which often face persistent threats from pollution, climate change and other hazards. He has spent more than 10,000 hours underwater and has an admirable ability to distill significant environmental messages in a single image.