Digital aquarium thermometers are considered by many to be the most accurate of all types available these days, though you must remember that the accuracy can vary significantly by brand. Amusingly enough, the price isn't always a suggestion of quality so that makes it harder to determine which amongst the so many brands offering the same features are actually the best for your tank. We suggest that you check current customer reviews watchfully before making a buy. Also don't forget to calibrate your digital aquarium thermometer using the instructions provided with the product.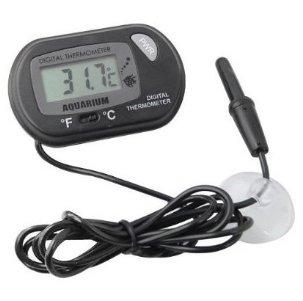 Well here's a digital aquarium thermometer which we found has generated a lot of good reviews from customers. SODIAL(TM) Digital LCD Fish Aquarium Marine Vivarium Thermometer -50¡ãC to 70 ¡ãC is the name in talk these days. It comes for just $19.99 and is found be greatly accurate and continues to work without any difficulty for a rather long period than you can ask for from a thermometer within this price range.
SODIAL Digital thermometers are easy to install with high quality suction base that you can completely rely upon to work without an interruption for years in general. Though you get a limited period guarantee along with the package yet there's hardly a review that says they needed it yet.
The long sensor cables allows for installation of your preference. You can get it installed at any position you feel doesn't disturb the looks of the tank. They are cool looking so you might not have to worry about an extra equipment look that makes the aquarium looks like an artificial piece of show with mechanisms fitted all around it. The modern designs of this kind of digital thermometers have actually made it easier to choose but at the same time you need to keep in mind that accuracy might not come along with good looks. About this thermometer you can be assured of the same to a greater degree. The compact design provides all aid you need to add that discreet look in your aquarium accessories or equipment as you name it.
You can just submerge the probe into fish tank and the accuracy of the temperature reading is never altered by this factor. You needn't submerge thermometer in water but even if you do, it will work fine while adding a digitalized look to your modern aquarium. So you have decided to replace an old crappy strip thermometer that was little better than a mood ring for heat, here is an obvious choice for you.
Specifications
Switch of ¡ãC / ¡ãF.
Temperature Range: -50¡ãC ~ +70¡ãC .
Usage Temperature: -10¡ãC ~ +50¡ãC.
Accuracy: ¡À1¡ãC
Dimension: 45mm x 55mm x 28mm (approx)
LCD Size: 25mm X 12mm.
Power: DC 1.5V LR44. Button battery (included).
Cable Length: 1m
Digital Refrigerator Thermometer features ultra small and lightweight unit.
Package Included: 1 x Aquarium digital thermometer, 1 x Button Battery.
NOTE: This item only displays in Celsius not in Fahrenheit.