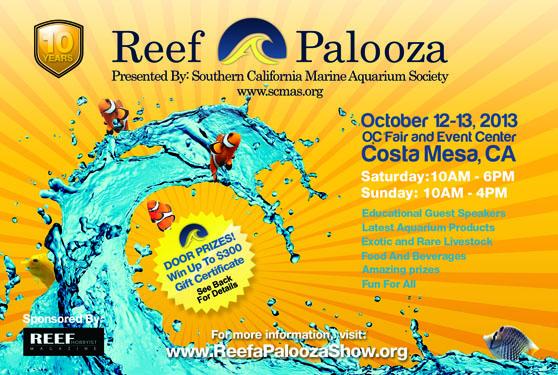 Reef-A-Palooza 2013 was a huge success with higher attendance than ever, with just short of 4400 ticketed saltwater enthusiasts attending the two day event.
Reef-A-Palooza (RAP) is an annual event promoted by the Southern California Marine Aquarium Society (SCMAS). Now in its tenth year, RAP can best be described as an indoor marketplace where sellers, exhibitors, and hobbyists of all types can buy, sell, trade, showcase their products to the marine hobbyist community. The chief intention of Reef-A-Palooza is to present a pleasant, encouraging atmosphere that is favorable to education and trade of both product and knowledge.
As such, participating exhibitors range from large manufacturers, to retailers, to small livestock sellers, and participating hobbyists range from the beginner to the elite, rare-species coral farmer. It is the perfect venue to showcase new products in the marine aquarium industry. They endeavor to unite a diverse range of participants into the two-day event so as to present the best value and interest to everyone involved.
Reef-A-Palooza provides the ideal venue for marine aquarium hobbyists to meet fellow enthusiasts, exchange information, and trade, and learn about new products. One of our main goals at Reef-A-Palooza is to educate and enlighten the public with the latest knowledge in marine animal husbandry skills and environmental responsibility. For instance, SCMAS completely encourages the rapid advancement and fascination of coral propagation as a feasible option to wild harvest collection practices. As such, many the booth exhibitors are local hobbyists who grow their own corals specifically to sell and trade at Reef-A-Palooza and similar events. SCMAS thoroughly encourages this type of "green commerce" for both the betterment and future of the reef hobby, as well as the consequential benefit to the marine environment.
Southern California is one of the most prolific areas in the world for the marine hobby in terms of retail, supply, and demographics. The concreteness of marine aquarium hobbyists living within the greater LA, San Diego and Orange County area is just extraordinary. These guys take complete advantage of this factor to promote Reef-A-Palooza far in advance of the actual event. Significant effort is made to advertise the event successfully, such as posting abundant signs, distributing postcards, and providing other similar displays to various retail locations. Booth rates are extremely reasonable and affordable.
Reef-A-Palooza is also focused to accommodate to the exhibitor and hobbyist, rather than as an educational conference. As such, they tend to attract customers who come specifically for the purpose of viewing and seeing all the different exhibitor's booths and displays. Nonetheless, speakers, opportunity drawings, and other entertainment are provided to help keep people around for most of the day, even after seeing all the booths. In addition, the promotional and marketing efforts are nearly guaranteed to attract high participation and attendance rates, and hence, heavy foot-traffic throughout the building. RAP 2014 is going to be HUGE this year due to the popularity of its new venue (Orange County Fair & Event Center, Building #10) as well as the number of sellers, exhibitors, and manufacturers involved.
They now have 20,000 square feet of indoor, climate-controlled space in which to make this event a resounding success. Now into its eighth year, Reef-A-Palooza has quickly gained the reputation as an event that is NOT to be missed!