NuvoAquarium is a new & advanced rimless All-In-One aquarium experience. It offers ultra-modern style that compliments any decor, the high performance of larger aquariums, and simple turnkey maintenance. NuvoAquarium is constructed from beautiful bent glass for dramatic viewing and paired with high brightness SkkyeLight LED lighting for live aquatic plants and marine corals.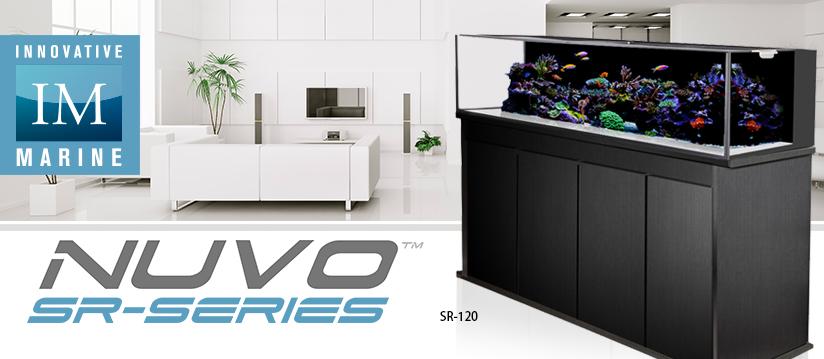 aquariums. Based on our award winning NUVO Desktop and Mid-Size series, these full-sized aquariums incorporate streamline minimalistic design, ultra thick polished glass, and offers the highest clarity viewing possible. The SR Series is the perfect combination of functional design for the style savvy aquarist.
The lustrous, open-top aquariums had enormous rear chambers for extra equipment, and they even made hard performing protein skimmers and media reactors that could simply fit. The new SR tanks come in three hefty sizes of 60, 80 and 120 gallons. General features of all three models include ultra thick high clarity glass, black silicone, aluminum framed mesh screen, leveling rubber mat, and a vigorous filtration system. The rear chambers are fed by dual overflows and include a pair of 4″ filter socks, a designated heater column, a designated skimmer/reactor chamber, between four and six return flare nozzles, and either two or three return pumps. The rear chambers of the NUVO SR can act as a refugium with the addition of IM's MagnaFuge LED light, or they can house protein skimmers or media reactors. Large chambers let you experiment with options.
Between the tank and stand sits a black rubber mat. This feature is a recent addition to the SR lineup, but because so many hobbyists place rubber or foam mats under their trimless aquariums, Innovative Marine felt that they should make available one that blends into the overall design of the NUVO SR. Another feature which you can no way ignore is the framed mesh cover for the top of the tank. This is always an addendum for hobbyists who lose fish, and it seems those repair works never quite look faultless and often sidetrack from the general appearance of the tank. Again, in observance with the design feel, IM created one for the hobbyist, and it blends in so nicely with the rest of the tank that it's almost imperceptible until you're hanging over the tank itself.
IM collaborated with other manufacturers to provide the best aquarium they can for their customer base. IM has brought in the best brains that the aquarium industry has to offer for their aquariums, and for their promo video, they have included the Radion LED fixtures from EcoTech Marine, eco-friendly live rock from Real Reef, corals from Farside Tropicals, and captive bred clownfish from Sustainable Aquatics. While none of these items will come with the tank, they certainly do smart it up a bit.
Specifications
Aquarium:
• 60, 80 & 120 Gallon Capacity
• Ultra Thick 10, 12 & 15mm High Clarity Glass / Low Iron
• Leveling Rubber Mat
• DIMS (36″, 48″ & 72″ x 24″ x 16″) (LxWxH)
• Flat Polished
• Diamond Edge Polished
• Black Silicone
• Aluminum Framed Mesh Screen Lid/Clips
Filtration:
• Acrylic Filter Wall w / Dual Overflows
• (2) 4″ Micron Sock – Mechanical Filters
• (4-6) Adjustable Return Flare Nozzles
• (2-3) Return Pumps
• Designated Heater Column
• Designated Skimmer/Reactor Column
Stand:
• 40″ High (36″, 48″ & 72″ x 24″ x 40″)
• Magnetic Cabinet Latches
• Storage Shelves
• Pre-Cut Cable Ports