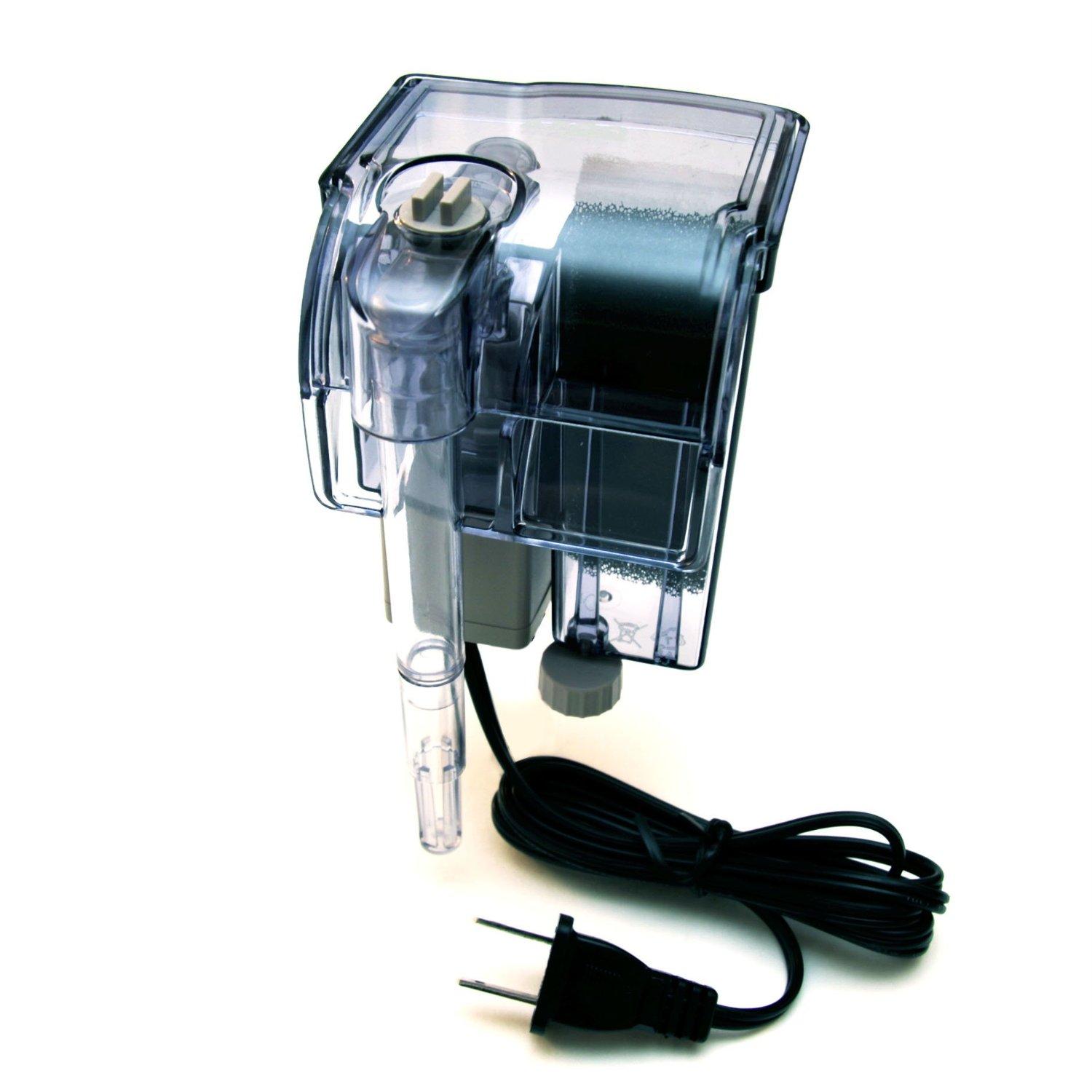 Hang on back filters are the ongoing trends in reef aquariums of this time but there are so many choices and options that it becomes so very difficult to decide upon the best one suiting your budget. We, at reefland strive to keep you updated with not just the latest technology you could opt for but also the most affordable and reliable ones. We are reviewing AZOO Mignon Filters today.
The least available ones in the AZOO Mignon Filters range are for nano tanks or desktop tanks. All the chemical, mechanical and biological filtrations you need to set up for your saltwater aquarium are present in this compact grey and black shielded hang on back aquarium. Keep your tank hassle free and make it look good at all times by keeping the filters at the most secluded area.
It is quite noiseless and just perfect for those tanks where you don't want to be disturbed every time the filter is on. It will clean your aquarium and keep it clear for a rather long time so that you don't have to worry about getting the not-so-favorite work of cleaning the tank manually every week.
We'd like to give some credits to the adjustable water flow which actually works unlike some of the competitors on the same line which only promises these features on the cover whereas on the inside lies a dumb piece of machine. AZOO Mignon Filter is not like that; for it is all that it talks about right from the outside till the depth of the insides. No heavy flows and no slow movements; adjust it just the way you want.
It is easy to install given all the details you get with it and also the handy nature of the filter. It is also easy to clean unlike many I can name here but let's not offend anyone. We are pretty sure you too must have encountered some filters which give you a tough time when it comes to getting it cleaned. There have been instances when I rather wanted it junk a filter altogether in the dustbin instead of cleaning the kind of mess that lied inside. This filter can be a savior for you if you too have encountered one such blunderbuss filter or are dealing with one right now. Time for a change!
Despite its small and compact size, the suction power is unbeatably great. For a filter of this size, I have yet to encounter such a performance. For cleaning all you have to do is just simply take out the sponge and the biomax and rinse them well in water from the tank so that all the good bacteria is preserved at home. I call it a basic filter with all the needed features at a great price. Operating this filter is pretty easy too. Press a bit of black knob's filter into its button and it shows out to make sure that the plumb is filtered and it is in level to the tank side and top. In order to adjust the filter, all you need to do is turn the knob on it.
Another of its plus point is that it does not require external pump since you get one pump attached to unit so you don't have to twist and turn tubing and deal with the mess of backflow if power goes out. It also saves you from having to buy a check valve. If power goes out, the water will rest in sump.
Get AZOO Mignon Filter 60 from amazon at $18.99
Get Azoo Mignon Filter 150 Power Filter from amazon at $30.37
Get Azoo AZ13101 Mignon Filter 360 from amazon at $24.70 (on sale)