CORAL FRENZY 0.5 mm REEF PELLET is the perfect alternative for those who do not have the time, discipline, or desire to feed live or frozen foods. Every Ingredient is listed on the label, so there is no question of what you are feeding. There are no "secret" ingredients or fillers; what you see is what you get.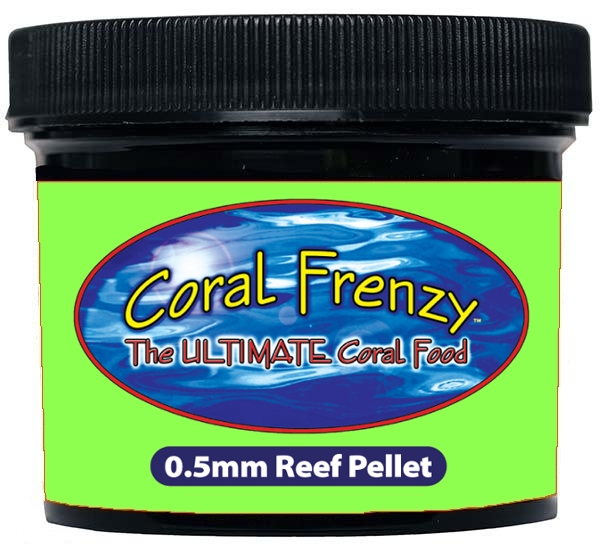 CORAL FRENZY 0.5 mm REEF PELLET is the only reef pellet on the market that has the manufactured date on the label. With a long shelf life, you are assured that it will not spoil like live or frozen foods.
PARTICLE SIZE: 0.5 mm Pellet. Coral Frenzy Reef Pellet is an excellent food for your corals and small fish.
A 70g jar can feed a 100 gallon tank for 2-3 months.
CONTAINS: Squid meal, herring meal, shrimp meal, whole wheat flour, soy meal, wheat gluten, refined marine fish oil, carotenoid pigments, brewer's yeast, spirulina algae, garlic, lecithin, Vitamin A acetate, DL Alphatocopherol (Vit. E), D-Activated Animal Sterol (Vit. D3), Vitamin B-12 Supplement, Niacin, Folic Acid, Biotin, Thiamine, Riboflavin Supplement, Pyrodoxine HCL, Calcium Pantothenate, L-Ascorbal-2-Polyphosphate (Stabilized Vit. C), Choline Chloride, Cobalt Sulfate, Ferrous Sulfate, Manganese Sulfate.
NUTRITIONAL ANALYSIS: Protein (Min.); 50%, Lipids (Min.); 15.5%, Fiber (Max.); 4%, Ash (Max.); 12%, Moisture (Max.); 8%, Astaxanthin; min. 80 ppm
FEEDING DIRECTIONS: For a 50 gal tank; Mix 1/4 tsp vigorously with a glass of aquarium water and pour into a high flow area or target feed. Feed 2X-3X a week depending on your systems needs. For best results, you should turn off your skimmer. When starting out, we recommend that you use less. How many times have you heard a company tell you to use less of their product?
WWW.CORALFRENZY.COM