Wow, these new tanks from JBJ are sweet.  If your in the market for an all in one nano tank, you have to look into these.  Prices are around $300 for the larger sized.  They feature all in one 3 stage filtration, 8 mm bent glass, tempered glass lids and clips.
They offer 4 different sizes – 8 Gallon, 20 Gallon, 30 Gallon, 45 Gallon.
Bold, Classy and Luxurious. The new JBJ Rimless RL-45 offers a panoramic view of your aquarium with 45 gallon of space for fish and coral. This luxurious mid-size tank features crystal clear water filtration and powerful water flow. Lean back, relax and enjoy the new classy addition to your deco.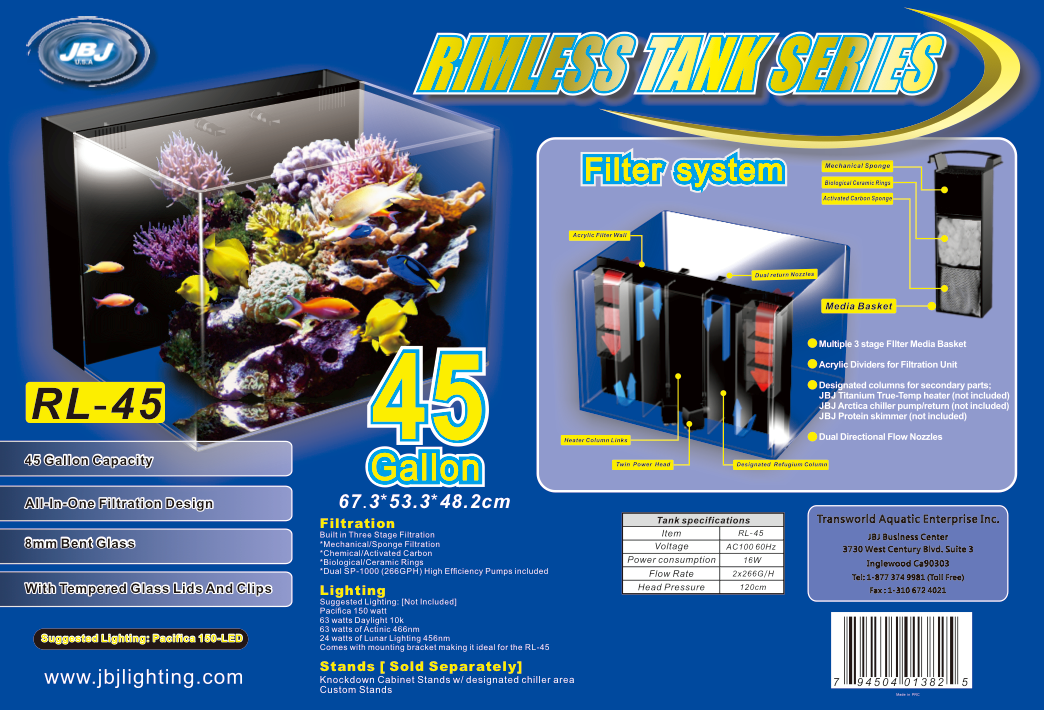 Filtration:
• Acrylic Filter Wall with Dual Overflows
• 3 Stage Filter Media Basket
• Mechanical Sponges
• Activated Carbon Sponges
• Biological Ceramic Rings
• Dual Return Nozzles
• Dual SP-1000 (266GPH) High Efficiency Pumps Included
• Designated Heater and Chiller Column
• JBJ chiller installation kit available separately for quick and easy chiller installation.
• Designated Refugium Column