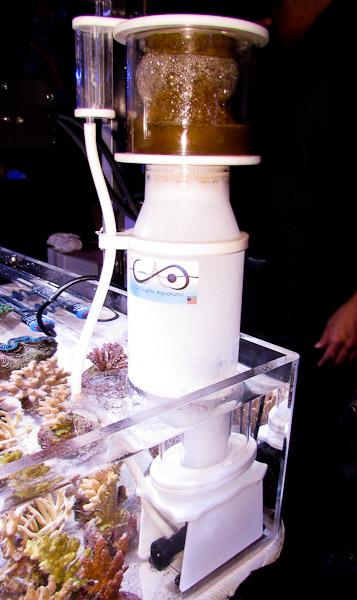 [google_adsense_in_post]
Ever wondered what would be the next generation skimmers? Small in size and bigger on performance is the obvious answer. The latest product out there with this kind of feature is CAD Lights' Pipeless PLS-100 Protein Skimmer which is just 100g and 4.75″ X 4.75″, fitting easily into the tiniest space you can afford to it. The compressed design allows you to accommodate the entire set up in such a way that it takes the smallest space ever accustomed by any other skimmer.
Well that's not the only feature making buzz, it skimmer is more in demand because it is the first ever pipeless protein skimmer. All Wedgepipes, Ball Valves, Gate Valves or any other external flow control mechanism have been removed off making it absolutely pipleless. By removing all these extra parts the skimmer has been slimmed by almost 40% giving it sleek and stylish look. No other skimmer before has been so space saving as this one.
The acrylic thickness is sturdy and can efficiently handle few bumps. The pipeless design results in a very small footprint with water that exits from the system through two holes in the base of the skimmer. The holes keep on through two plates of acrylic, and water flow is accustomed by how well associated the holes are.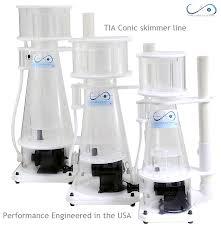 This protein skimmer is great for tight spaces and for people who have small sumps but are in need of a Powerful protein skimmer. The PLS-100 uses the efficient TIA-1150 skimmer pump rated for up to 70G-100G based on livestock volume respectively. Its compact design lets it fit well even in the smallest sumps and give it a great look overall.
What makes it different from the traditional skimmers you have been using till today is that the PLS-100 consumes its own body to control and manage the foaming level and pressure. Just a turn of the skimmer body in one way controls your foam up and a further simple turn to the reverse direction brings the pressure level down. The exceptional pump pressure is so designed as to force an exceedingly low friction surface between the hand smoothed skimmer base and top to give you a smooth surface always for controls.
Features of PLS-100 pipeless skimmer
Extremely small overall dimensions: 4.75″(L) x 4.75″(W) x 18.75″(H)
Powerful TIA-1150 Skimmer pump
GPH: 375GPH
Wattage: 20W
Air draw: 315 L/H
Optimum Water level 7″-10″
Load recommendations:
Light bio-load (100G)
Medium bio-load (80G)
Heavy bio-load (60G)
100% Cell-Cast acrylic. High quality Craftsmanship.
Retail Price: $174.99
Our overall review for this product says that you can absolutely go for this skimmer if you are looking for an ingenious skimmer with good looks. The small size and the fact that it is pipeless do not make it any less proficient compared to the other traditional ones you might be using. If you are short of space this should be the ideal buy for you. At this price and size you cannot find any skimmer that doers the work any better.