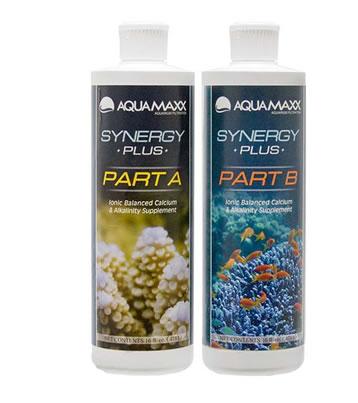 AquaMaxx Synergy Plus is concentrated and ionically balanced. This calcium and alkalinity supplement work synergistically to help maintain and stabilize the calcium, alkalinity and pH levels in your aquarium. The `Plus` being the inclusion of iodine, strontium, bromide, boron, trace elements, and a high amount of magnesium, this formulation will help to boost the growth of your corals and ensure the health of your aquaria.
Contains NO nitrates or phosphates! Using the AquaMaxx Synergy Plus is simple and convenient. Daily dosing will maintain your calcium, alkalinity and pH levels as well as maintaining ionic balance. This system can also be automated with the usage of dosing pumps.
Calcium is an essential component of many corals' building structures. Without calcium, many corals and other calcareous invertebrates will not survive. Even some soft corals require calcium to help build their sclerites: which are responsible in helping them to maintain their shape. It is important to keep the calcium level in a reef tank between 380ppm and 450ppm.
Having a consistent and high alkalinity level will help to buffer pH and help improve coral growth. The buffering capabilities of AquaMaxx Synergy Plus will help to maintain your aquarium pH between 8.0 and 8.4: which is the ideal level for your tank inhabitants. It also provides the necessary carbonate ions for healthy coral growth. The ideal alkalinity level is 3.0 meq/L to 4.0 meq/L.
Instructions
Dosing Instructions (based on coral load):
Low Load: Add 3 mL of AquaMaxx Synergy Plus per 10 gallons of tank water.
High Load: Add 6 mL to 10mL of AquaMaxx Synergy Plus per 10 gallons of tank water. Do not dose more than 1 mL per gallon in a 24 hour period.
Includes 16 oz. each of Part A and Part B.
AquaMaxx is a Southern California-based aquarium supply company that entered the market in mid-2008 with a line of affordable metal halide bulbs. The brand quickly gained recognition as word spread about the high quality and low cost of their lamps. In 2009, AquaMaxx released a line of aquarium filter socks and, in early 2010, unveiled an assortment of high-performance protein skimmer accessories and upgrades.
AquaMaxx Synergy Plus 2-Part Calcium & Alkalinity Supplements is available at amazon at the best prices in three different quantity packs.
AquaMaxx Synergy Plus 2-Part Calcium & Alkalinity Supplements – 32 oz. (16 oz. each bottle)
For $11.99
AquaMaxx Synergy Plus 2-Part Calcium & Alkalinity Supplements – 64 oz. (32 oz. Each Bottle)
For $18.49
AquaMaxx Synergy Plus 2-Part Calcium & Alkalinity Supplements – 256 oz. (128 oz. each bottle)
For $29.99